Plexus Slim Microbiome Activating Pink Drink
---
Plexus Slim Microbiome Activating Formula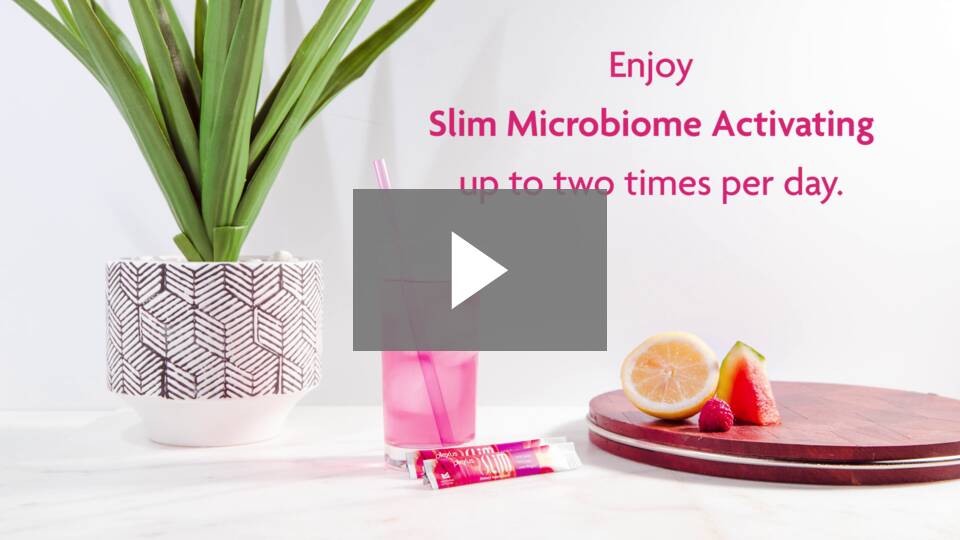 Introducing Slim Microbiome Activating
Find out how our Plexus Slim Microbiome Activating drink can help create a healthier gut and a slimmer you in one delicious drink.*
This is how healthy happens!™ 
Plexus Slim Microbiome Activating Drink is the delicious, power-packed health drink your body has been waiting for. Slim features a premium microbiome activating formula that contains ingredients clinically-demonstrated to improve gut health and promote weight loss. Feed your gut with beneficial prebiotics, support a healthy glucose metabolism, and lose weight – with one great-tasting pink drink.◊*
Visit the new Plexus Slim website to learn more about everyone's favorite pink drink! Watch the full length video, read testimonials and clinical studies, learn about the new microbiome activating formula and more!
Benefits
Clinically demonstrated to help you lose weight*
Promotes the growth of good gut microbes◊*
Increases Lactobacillus by 365 times and Bifidobacterium by 290 times- contributes to overall health◊*
Increases the metabolism enhancing Akkermansia microbes by 250 times◊*
Supports healthy glucose metabolism*
Features 
Clinically studied XOS prebiotic
Patent pending formula
Delicious raspberry, lemon, watermelon flavor
5 Calories
No artificial sweeteners, flavors or colors
30 single serve packets for on-the-go convenience
Gluten Free
100% Vegetarian
Non-GMO
What is Plexus Slim ®?
Slim is the delicious way to promote overall health and lose weight. Slim supports healthy glucose metabolism and helps good microbes thrive which keeps your gut microbiome healthy.*
When is the best time to drink Slim ®?
If you want to lose weight, drink Slim 30 minutes before a meal. If you want to support your gut microbiome, enjoy Slim at any time of the day! Simply pour one packet of Slim into a glass of water or water bottle, mix, and enjoy!
How many Slims can I drink per day?

You can enjoy Slim up to two times a day.
How much water should I use with Slim?
Each packet of Slim can be mixed into 12-20 ounces of water.
Should Slim be added to hot or cold water?
Slim is meant to be a refreshing drink, and its best added to cold water. We don't recommend adding Slim to hot water, as hot water could affect the stability of Slim's green coffee extract, making it less effective.
Can you tell me about the new study that was done on Slim?
We wanted to see what Slim can really do, so we put it through rigorous, testing procedures. In a highly advanced, in vitro study created to mimic the human gastrointestinal system, Slim's powerful microbiome activating formula was tested, which produced astounding results. ◊*
Here's what the scientists found:
Increases friendly microbes called Akkermansia– a remarkable microbe, which positively impacts disrupted metabolism associated with being overweight by 250 times. ◊*

Increases Lactobacillus by 365 times and Bifidobacterium by 290 times- microbes that contribute to your overall health. ◊*

Increases Butyrate by up to 58% and Propionate by up to 29%- Short-chain fatty acids that help regulate your metabolism. ◊*
What is the prebiotic in Plexus Slim and how is it beneficial to me?
Xylooligosaccharides (XOS), Slim's incredible prebiotic, is a fiber that friendly microbes love to eat. XOS has been clinically shown to improve intestinal microflora for enhanced health and well-being. In a double-blind, randomized, placebo-controlled study conducted by researchers at the University of California at Los Angeles (UCLA), daily doses of XOS (as low as 1 gram) were found to significantly improve gut microbiota balance, promoting growth of more species of good gut microbes, while reducing bad microbes, thereby, promoting intestinal health.*
What is a prebiotic? How does it work?
Your gut is full of microbes. Some of them are good; some of them are bad. Prebiotics are non-digestible fibers that make their way through our digestive system and help good microbes grow and flourish. Prebiotics are non-absorbable fibers like fructo-, xylo- and oligo-saccharides, and inulin, which can be found naturally occurring in whole grains, chicory root, onions, leeks, fruits and legumes. Prebiotics act as a fertilizer, selectively feeding good microbes in the gut and assisting in their growth. This leads to benefits for your overall well-being and health. Nearly everyone needs prebiotics to experience optimal health, particularly those who don't get enough from their diet.*
Have we enhanced the high quality of ingredients in Slim?
Absolutely. The ingredients in the new Slim were specifically qualified by our in-house Quality Assurance department using world-class quality standards. Each material is rigorously tested for purity and potency by Plexus Worldwide® before ever being selected for use. The difference in this hands-on approach and dedication to ingredient quality ensures that you can feel confident in the purity and potency of Slim's quality ingredients.
Do I need to keep taking Slim to keep the microbiome benefits?
If you stop drinking Plexus Slim every day, the improvements in your gut can start to disappear in as little as a week. So it's best to take Slim every day.
Will I experience any side effects when I start drinking Slim?
Experiencing side effects of prebiotic supplementation in Slim is very unusual. However, in certain people, supplementing with prebiotics could cause temporary gas and bloating. One way to avoid this is to begin by taking only a small amount of prebiotic (e.g., a half pack of Slim) and then gradually increasing your intake over 1 to 3 weeks. Your gut microbes should adapt to prebiotic supplementation over time, which will help relieve any discomfort.*
Is there a clinical study on Slim for weight loss?
Yes! Plexus Slim has been scientifically demonstrated to promote weight loss. In a double-blind, placebo-controlled, randomized study of 175 subjects, Slim helped study participants lose weight.1*
If I'm not trying to lose weight, will I still benefit from taking Slim?
Absolutely! Plexus Slim is a delicious health drink with amazing microbiome benefits. Even if you are not looking to lose weight, Slim delivers prebiotics that promotes the growth of good gut microbes and supports a healthy glucose metabolism. You are drinking your way to a healthier and happier gut!*
Is Plexus Slim safe?
Yes, Plexus Slim is safe to drink.
Is it safe to drink  Slim while pregnant or breastfeeding?
If pregnant or nursing, consult your physician prior to use.
Can Slim be used by children under the age of 18?
Slim is not recommended for use by children under 18.
What flavor is the Slim Microbiome Activating formula?
Plexus Slim is a delicious raspberry, lemon, watermelon flavor.
Does Plexus Slim contain any allergens (Dairy, Egg, Peanut, Soy, Shellfish, Tree-Nut, and Wheat)?
No.
Is Plexus Slim Gluten free, 100% vegetarian, and Non-GMO?
Yes.
Is there caffeine or any other stimulants in Plexus Slim?
The Chlorogenic acid in Slim is extracted from green coffee bean, and it contains less than 2% natural caffeine, which is negligible.
Can I take Plexus Slim with other Plexus products?
Absolutely! Slim is a great addition to any Plexus regimen. We highly recommend using it with ProBio 5 and Bio Cleanse in our TriPlex combo. The effects of this combination are very beneficial to your overall health, and helps you lose weight.*
Is Akkermansia in Slim or already in your gut?
Akkermansia is a beneficial bacterium that is already present in your gut. Plexus Slim's formula with XOS helps feed good microbes and has been shown to increase Akkermansia levels by up to 250 times.◊*
Is the mulberry extract mixed with the raspberry, lemon, and watermelon to create the flavor profile?
While mulberry extract is not part of the flavor profile, it is in both the original and new Slim. Mulberry extract is considered a superfood and is a potent antioxidant.
What are the natural flavors in Plexus Slim?
The natural flavors in Plexus Slim are raspberry, lemon, and watermelon.
If I'm allergic to raspberry, lemon, and watermelon can I still drink Plexus Slim?
Plexus uses flavors that are extracted from actual fruit. Typically, the proteins that could cause an allergic reaction would be removed during extraction. The possibility of an allergic reaction is very small; however, we recommend that if you have an allergy to any of these fruits, please consult your physician prior to use.
What is the fruit and vegetable concentrate for color in Plexus Slim?
The fruit and vegetable concentrate in Plexus Slim for color is the following-
Beetroot extract (Beta vulgaris)

Sweet potato concentrate (Ipomoea batatas L.)

Radish concentrate (Raphanus sativus)

Cherry concentrate (Prunus avium)

Apple concentrate (Malus domestica)
What is the exact source with the XOS in Plexus Slim?
The XOS in Plexus Slim is derived from Non-GMO corn.
Is there a corn derived ingredient in Plexus Slim?
XOS is derived from Non-GMO corn. If you're allergic to corn please consult your physician prior to use.
What are the clinical studies done on the XOS in Plexus Slim®?
Childs CE, Röytiö H, Alhoniemi E, et al. Xylo-oligosaccharides alone or in synbiotic combination with Bifidobacterium animalis subsp. lactis induce bifidogenesis and modulate markers of immune function in healthy adults: a double-blind, placebo-controlled, randomised, factorial cross-over study. Br J Nutr. 2014 Jun 14;111(11):1945-56.

Yang J, Summanen PH, Henning SM, et al. Xylooligosaccharide supplementation alters gut bacteria in both healthy and prediabetic adults: a pilot study. Front Physiol. 2015 Aug 7;6:216.

Kobayashi T, Okazaki M, Fujikawa S, et al. Effect of xylooligosaccharides on feces of men. Agronomic Sci Soc Japan. 1991;65:1651-1653.

Chung YC, Hsu CK, Ko CY, et al. Dietary intake of xylooligosaccharides improves the intestinal microbiota, fecal moisture, and pH value in the elderly. Nutr Res. 2007;27:756

Xu HJ, He SL, Wang XJ. Effect of xylooligosaccharides in the gut dysfunctions caused by chronic hepatitis. Chin J Integr Trad West Dig. 2004;12:365-366. (In Chinese)

Beijing Institute of Nutrients. Study report on the effects of xylooligosaccharides on the regulation of the intestinal function and glycemic response. December, 2013. (In Chinese, unpublished)

Na MH, Kim WK. Effects of xylooligosaccharides intake on fecal bifidobacteria, lactic acid and lipid metabolism in Korean young women. Korean J Nutr. 2007;40:154-161. (In Korean)
1Participants in an independent, randomized, double-blind, placebo-controlled, human clinical study, who used one pack of Slim twice a day lost an average of 5.45 pounds in 8 weeks, while the placebo group lost an average of 3.12 pounds. There was a trend to weight decrease with Slim group (p=0.059)
Plexus Slim Ingredients

◊The results of an in vitro human gut simulator study suggest that Slim's formula may have several beneficial effects. Further research, including research conducted in humans, is needed to confirm these preliminary findings.
*These statements have not been evaluated by the Food and Drug Administration. This product is not intended to diagnose, treat, cure, or prevent any disease.
---
Plexus Preferred Customer Program:
Try Plexus® Products Risk-Free!
60-Day Money Back Guarantee
We are 100% committed to your health and happiness, and want your absolute satisfaction as a Plexus customer. If you are unsatisfied with a product, you have a full 60 days from the date of purchase to request a full, prompt refund. No hassles, no questions.
Please note:
This guarantee can only be used once per product and excludes certain promotional items. If you have purchased a Plexus product directly from an Ambassador (not on the internet or by phone), your Ambassador will issue a refund to you. 
ORDER Plexus Slim

Microbiome Activating

Today!